UPCOMING and Previous GIGS
Based on the acclaimed Jules Verne novel, this brand new musical written and directed by Ian MacFarlane with musical arrangement by Laurie Denham, celebrates the iconic Blackpool Grand Theatre's 125th birthday this summer. Get ready for the adventure of a lifetime. Tickets
30th July - Art of Now, BBC Radio 4
Psychotherapist Phillipa Perry interviews Justina Kehinde on how she uses hands in her poetry and their relationship to Britain's colonial history, hair braiding as a means of intimacy between Black women, gesture as communication and much more. Full link
Justina Kehinde stars in Associated Studios production of Sister Act the Musical. Vaults Theatre, London. Tickets
Justina Kehinde hosts an evening with iThemba Projects in their 2nd annual fundraiser 'Rum and Rhymes'. A night of live music, afro-fusion cuisine and rum tasting in aid of iThemba's work in the rural community of Sweetwaters, South Africa.
Justina Kehinde directs for the WOLAB Actor-Writer Showcase.
Location: Theatre N16, 5 Ashley road, N17 9LJ London, United Kingdom
Justina Kehinde performs letters between Wilfred Owen and his mother in Big Ideas' 'Motherhood, Loss and World War 1', a commemoration project acknowledging the universality of bereavement as the defining experience of conflict with a special focus on mothers - an overlooked aspect of grief during this period.
Senate House, WCIE 7HU
The Writers' Watchlist Vol.1. A showcase of plays from alumnus of the Royal Court and Soho Writers' Labs, performed at Theatre Royal, Stratford East.
Bespoke poetry set for First Bank Nigeria's Youth Empowerment Conference. Victoria Island, Lagos Nigeria.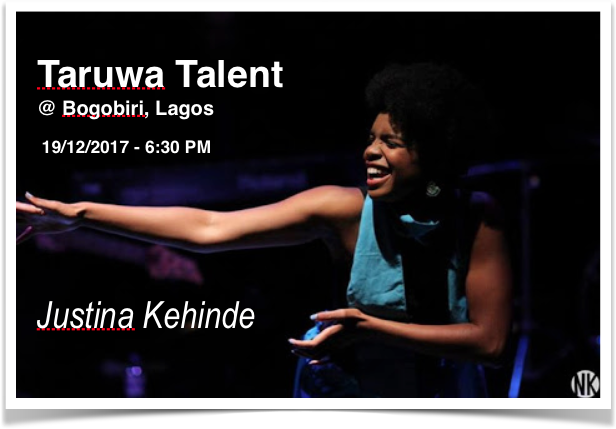 Jazz and Poetry set at the hottest spot in Lagos, Bogobiri House, opposite the African Arts Foundation, Ikoyi Island, Lagos, Nigeria.
An intimate jazz and poetry set for members of the Aspen Leadership Institute hosted at the renowned Ikoyi Boat Club, Lagos, Nigeria.
African Diaspora Women's Forum 20 17: A Conversation on Culture, Sex and Society. Africa Centre, London, SE1 0BL
In conversation with Reni-Eddo Lodge on her Bailey Gifford nominated book - 'Why I'm No Longer Talking to White People About Race'. Blackwells, Oxford.